See on Scoop.it – Current Updates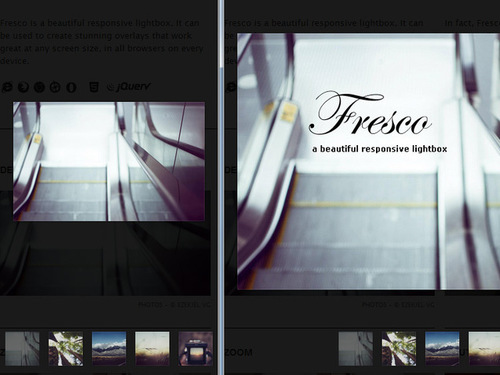 iosSlider – Touch Enabled jQuery Horizontal Slider Plugin iosSlider is a jQuery plugin which allows you to integrate a customizable, cross-browser content slider into your web presence. Designed for use as a content slider, carousel, scrolling website banner, or image gallery.
Fresco – Fresco is a beautiful responsive lightbox. It can be used to create stunning overlays that work great at any screen size, in all browsers on every device.
In fact, Fresco in the first truly responsive lightbox. Give the demonstrations a try to see what that means, make sure to adjust your screen size (or rotate your device).
To make things even more awesome Fresco comes with fullscreen zoom, retina-ready skins, Youtube and Vimeo integration for HTML5 video and a powerful Javascript API.
tablecloth.js – tablecloth.js is a jQuery plugin that helps you easily style HTML tables along with some simple customizations.
JQVMap – JQVMap is a jQuery plugin that renders Vector Maps. It uses resizable Scalable Vector Graphics (SVG) for modern browsers like Firefox, Safari, Chrome, Opera and Internet Explorer 9. Legacy support for older versions of Internet Explorer 6-8 is provided via VML.
equalize.js –
The jQuery plugin for equalizing the height or width of elements
Allofthelights.js –
jQuery plugin to turn off the light and enjoy your videos, try it!
trunk8 –
trunk8 is an intelligent text truncation plugin to jQuery. When applied to a large block of text, trunk8 will cut off just enough text to prevent it from spilling over.
Unlike conventional truncation that just limits the character length of text, trunk8 measures the content area for spill-over and intelligently chooses the text that best fits in the given space.
Source: http://front-endmagazine.com/6-ultimate-jquery-plugins/
See on front-endmagazine.com